I just tested that quickly, but noticed that the current Leap15.2 beta is still using Btrfs-progs 4.19.1 (with kernel 5.3.18) so the btrfs scrub satus output format is still OK for us. Only tumbleweed should have this problem. I know it's only a matter of time, though, so it looks like we still need to account for the btrfs-progs version when applying this fix.
For instance, I have:
rockdev:~ # btrfs --version
btrfs-progs v4.19.1 
rockdev:~ # uname -a
Linux rockdev 5.3.18-lp152.11-default #1 SMP Wed Apr 15 12:02:19 UTC 2020 (71e1af4) x86_64 x86_64 x86_64 GNU/Linux

…which gives me:
rockdev:~ # btrfs scrub status -R /mnt2/test_pool
scrub status for 18ed12fc-fa61-4076-b522-3e37f4e6e9d7
        scrub started at Wed Apr 29 08:14:05 2020 and finished after 00:00:00
        data_extents_scrubbed: 1
        tree_extents_scrubbed: 18
        data_bytes_scrubbed: 65536
        tree_bytes_scrubbed: 294912
        read_errors: 0
        csum_errors: 0
        verify_errors: 0
        no_csum: 16
        csum_discards: 0
        super_errors: 0
        malloc_errors: 0
        uncorrectable_errors: 0
        unverified_errors: 0
        corrected_errors: 0
        last_physical: 1179648000

…that itself is picked up nicely by the webUI: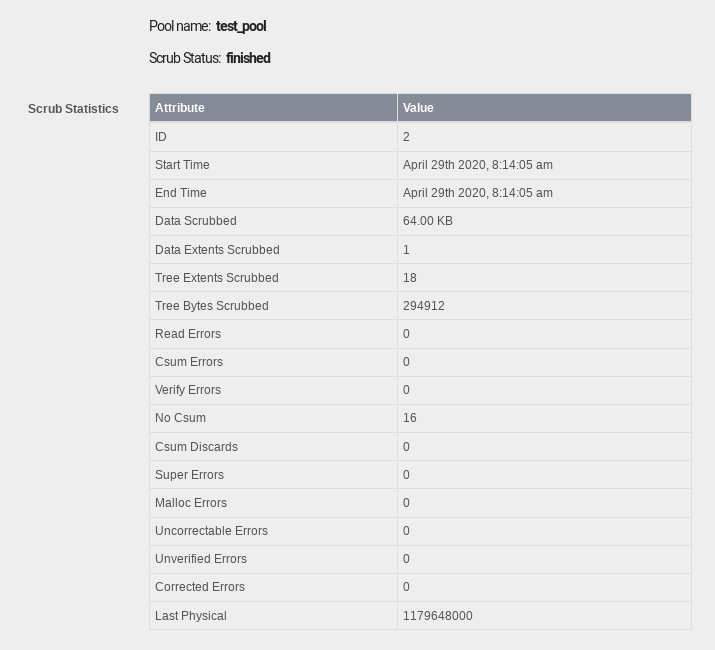 I don't know whether or not Leap 15.2 will ship with newer btrgs-progs version, however.