Brief description of the problem
New install after update and reboot reports the following error:
column storageadmin_share.pqgroup_rusage does not exist LINE 1: …n_share"."rusage", "storageadmin_share"."eusage", "storagead… ^
Detailed step by step instructions to reproduce the problem
With installation I had the same problem as it is described here:
I installed to a different system, but the symptom was the same and with ver3.8.15 the install was OK.
I just followed the advice to update to latest version.
Activated testing updates and run the update what was successful.
When server came back it reported kernel version mismatch, so I did reboot.
After reboot I got this message below.
Creating pool was OK, but could not create a share, the same message was thrown.
I repeated the install to another disk (just to retry) but got the same result.
Web-UI screenshot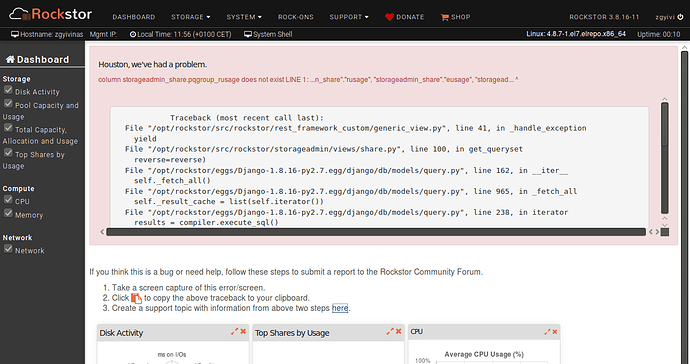 Error Traceback provided on the Web-UI
        Traceback (most recent call last):

File "/opt/rockstor/src/rockstor/rest_framework_custom/generic_view.py", line 41, in _handle_exception
yield
File "/opt/rockstor/src/rockstor/storageadmin/views/share.py", line 100, in get_queryset
reverse=reverse)
File "/opt/rockstor/eggs/Django-1.8.16-py2.7.egg/django/db/models/query.py", line 162, in iter
self._fetch_all()
File "/opt/rockstor/eggs/Django-1.8.16-py2.7.egg/django/db/models/query.py", line 965, in _fetch_all
self._result_cache = list(self.iterator())
File "/opt/rockstor/eggs/Django-1.8.16-py2.7.egg/django/db/models/query.py", line 238, in iterator
results = compiler.execute_sql()
File "/opt/rockstor/eggs/Django-1.8.16-py2.7.egg/django/db/models/sql/compiler.py", line 840, in execute_sql
cursor.execute(sql, params)
File "/opt/rockstor/eggs/Django-1.8.16-py2.7.egg/django/db/backends/utils.py", line 64, in execute
return self.cursor.execute(sql, params)
File "/opt/rockstor/eggs/Django-1.8.16-py2.7.egg/django/db/utils.py", line 98, in exit
six.reraise(dj_exc_type, dj_exc_value, traceback)
File "/opt/rockstor/eggs/Django-1.8.16-py2.7.egg/django/db/backends/utils.py", line 64, in execute
return self.cursor.execute(sql, params)
ProgrammingError: column storageadmin_share.pqgroup_rusage does not exist
LINE 1: …n_share"."rusage", "storageadmin_share"."eusage", "storagead…
^