Hi everybody!
In the past few days I've been working on a new feature for the shutdown and suspend tasks that can be scheduled in the web interface. I've already opened an issue (#2038) and have written a bit about how I think such a feature should and could work.
It's basically about letting the system suspend or shutdown when certain network devices aren't online anymore. Currently that is determined using their ping response.
If there's no response at all, it is possible to let the system perform several attempts before shutting down. The user is able to configure how many attempts are being made and how long to wait between them.
I've tried to integrate everything neatly with the existing fields: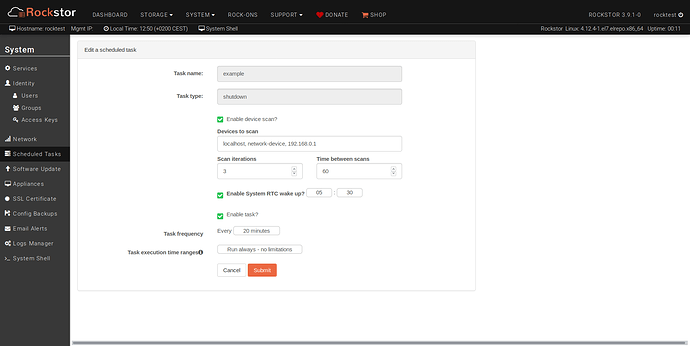 I'll open a pull request and would be very happy if someone could have a look at it – I'm neither experienced with Javascript nor Python, so probably I've made some (possibly severe) mistakes.
I'm completely open to suggestions regarding the feature and also the implementation using ICMP echo requests. It's working reliably for my own setup, but how is the situation for other installs? Are all your devices configured to respond to ping requests?
Also, I'm currently testing on openSUSE, but as far as I know the ping command behaves exactly the same, so there shouldn't be any problems at run time.