Hi Rockstor afficinados,
I am planning on upgrading the drives of my current Rockstor appliance to higher capacity HDDs. Since I am intending on replacing all disks (since the chassis can only hold 4) I would like to ask the community for advice on how to best go about it. I am running RAID5/6 (yeah, I know, I know, but I took the risk a few years ago and -knock on wood- did not have any catastrophic failure).
My current box looks like this:
Rockstor Version - 3.9.2-48
Linux: 5.4.1-1.el7.elrepo.x86_64 (BTRFS tools @ 5.4)
Disks: 4 x 4TB RAID5
Current Fill Level: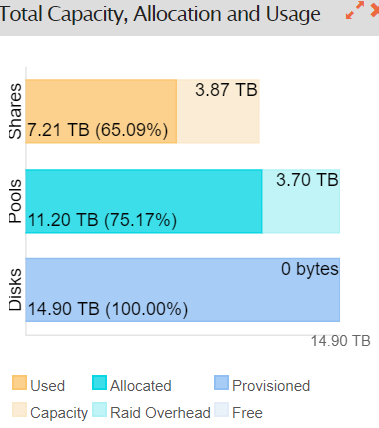 I want to move to 4 x 10TB with the same RAID setup.
Any words of wisdom on the procedure to get there? I don't really have the option to pull all data off first and then just wipe and go.
As I've read in a few other threads about some issues during single disk replacements, I wanted to ensure I don't fall into the same rabbit holes.
Thanks in advance for your help.