Hi,I'm a newbie to rockstor and Unix systems. Perhaps you can help me solving several problems.
I'm running rockstor wit Plex since a couple of month with no problems until the last Update to 3.9.2-3.
What I have done:
I started the Update of packages on the Web UI

This did not work. I received this error
Error: Package: rockstor-3.9.2-0.x86_64 (@Rockstor-Stable)
Requires: docker-engine
Removing: docker-engine-1.13.1-1.el7.centos.x86_64 (@anaconda/3)
docker-engine = 1.13.1-1.el7.centos
Obsoleted By: docker-ce-17.09.0.ce-1.el7.centos.x86_64 (Rockstor-Stable)
Not found
Available: docker-engine-1.9.1-1.el7.centos.x86_64 (rockstor)
docker-engine = 1.9.1-1.el7.centos

I made a yum update in a terminal. It completed without any error. I rebooted the system.
Then the trouble starts:

Bootstrap service cannot be set to ON
Some of the shares are not mounted anymore


Perhaps this is the reason why I cannot access the Plex UI anymore?
Even a recovery of a disk image (made with "dd") didn't resolve the problem.
If you need more information don't hesitate to ask for.
Would be great if someone can help me.
cheers
Uli
PS.: sorry for my bad english.
[EDIT]: next steps to a solution
I managed to mount the Shares again, start the bootstrap.service and enable Plex WebUI by enabling the btrfs quota.
"btrfs quota enable /"
But on the rockstor webUI it shows 0 size and usage: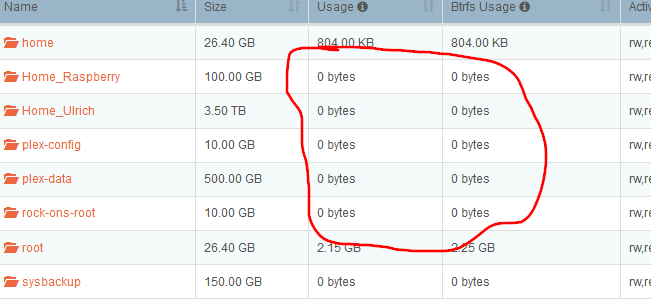 How can I solve this?