On my new, reinstalled 3.8.8 I get this: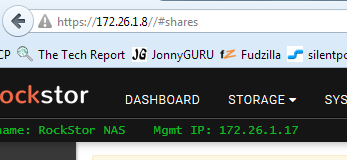 This is a freshly install from the 3.8.7 ISO, which I installed and upgraded, and then went ahead and changed the IP to the static one I use for the NAS. After another reboot, I get different IP's shown. I access the NAS via 172.26.1.8 (also SSH), but the Web interface shows 172.26.1.17.
I actually had to reinstall, because the original update left me in a state where the cli told me the system had no IP, and I couldn't connect to the NAS from other machines.
So I'm worried that something is wrong with the networking setup somewhere.