I'm trying to install Rockstor 3.9.1, from the ISO, downloaded from Rockstor - Browse Files at SourceForge.net. It gets to the Rockstor splash screen and I select Install Rockstor. However, after selecting to install, I start seeing error messages and the install never completes.
After the "[ OK ] Mounted Configuration File System." message, I start seeing "Bug: soft lockup - CPU#x stuck for 22s! [systemd-udevd:644]" errors: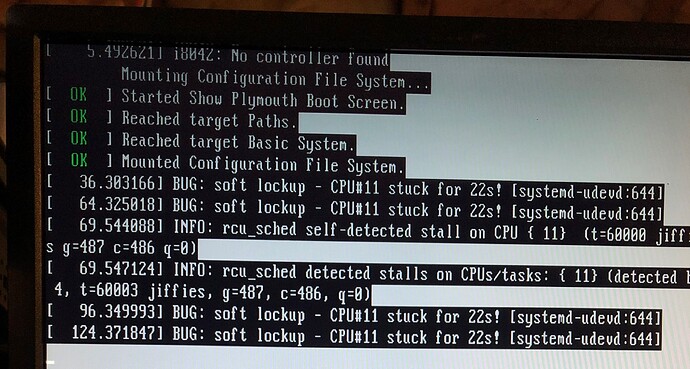 I'm trying to install on a SuperMicro SuperStorage 5028R-E1CR12L server (5028R-E1CR12L with Part List | SuperStorage | Products | Super Micro Computer, Inc.), with the SuperMicro X10SRH-CLN4F motherboard and a single Intel Xeon E5-2620v3 2.40 GHz six Cores Processor.
NOTE: I also tried to install vanilla CentOS 7 and I get the same error messages.
NOTE: I was able to successfully install FreeNAS, so it's seems to be a Linux issue, maybe specific to CentOS/RedHat.
Any ideas on how to resolve this?