Well I finally read the changelog for the latest testing update, and it was mostly regarding enhancing / fixing e-mail alerts.
A function I have never gotten to work.
But reading the changelog I decided to give it another try. But something goes terribly wrong.
I have set up a hotmail account for sending the messages, and will be sending them to my primary gmail account.
I have input all the fields: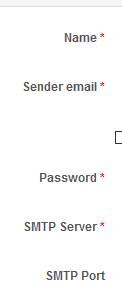 correctly, and set up the receiver adress.
I hit "Test current SMTP params" and get this:


But when I hit save (submit) I end up at the startup page for email notifications, and nothing is being saved.

Why is my email setup not being saved?