Brief description of the problem
I'm trying to join Rockstor to my AD domain, but it is erroring out.
Detailed step by step instructions to reproduce the problem
I filled out my Active Directory configuration on the services page and then clicked to start the service. I then get the below error.
Web-UI screenshot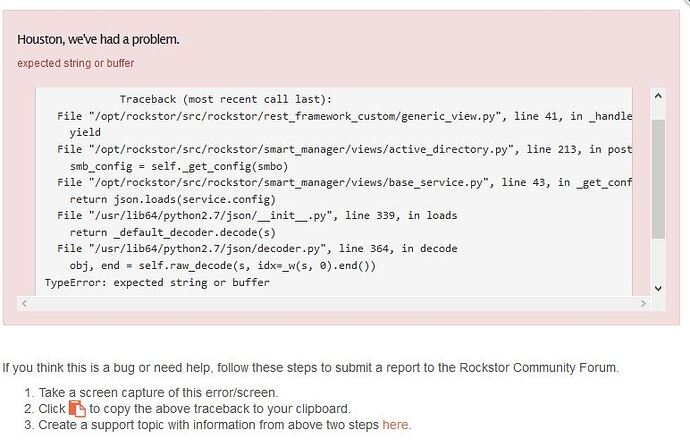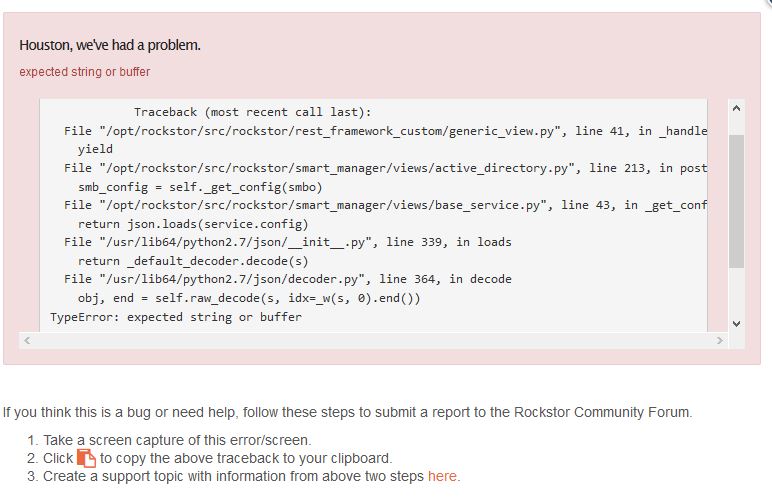 Error Traceback provided on the Web-UI
Traceback (most recent call last): File "/opt/rockstor/src/rockstor/rest_framework_custom/generic_view.py", line 41, in _handle_exception yield File "/opt/rockstor/src/rockstor/smart_manager/views/active_directory.py", line 213, in post smb_config = self._get_config(smbo) File "/opt/rockstor/src/rockstor/smart_manager/views/base_service.py", line 43, in _get_config return json.loads(service.config) File "/usr/lib64/python2.7/json/__init__.py", line 339, in loads return _default_decoder.decode(s) File "/usr/lib64/python2.7/json/decoder.py", line 364, in decode obj, end = self.raw_decode(s, idx=_w(s, 0).end()) TypeError: expected string or buffer