Here you go.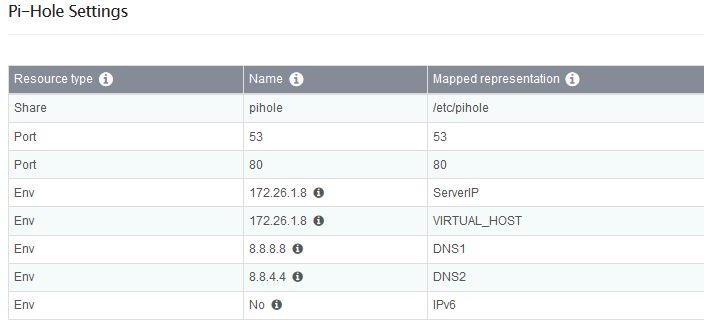 Strange that it wont work, everything seems to be working, its definately blocking ads as it should.
Ah i think i might have spotted a problem


The IPv6 should be "true" or "false"
I use: false
Can you test to change that and see if it works better?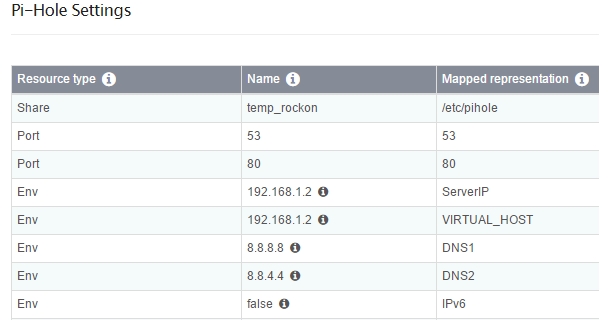 What I have to do is go to http://ROCKSTOR_IP/#home and that bypasses pi-hole.
Though I haven't tried this docker yet, still running installed directly on system. I'll try it soon!
Didn't work here either, sadly. I get the exact same message.
Luckily everything else seems to work.
Rockstor uses https (port 443)
Cant you get in if you type that?
Interesting how the link to access this Rock-on's webUI points to "/web"… Does anyone know where this could originate from? I tried to look into the container's github repo but I couldn't find a helpful corresponding line of code.
Ok, tried it out and it works well. I would suggest changing the webui link to ROCKSTOR_IP:PORT/admin because as stated above the /web is blocked by default. Can this be achieved by changing the slug variable? I am not familiar with the intricacies of the rockon json format

Thanks a lot @phillxnet!
I (somehow) missed this section in the json file.
I still have an odd behavior regarding this link, however, Even though the link is correct (http://serverIP:port/admin, it fails to load the first time, and the browser automatically tries to open serverIP/admin. Upon manually typing serverIP:port/admin, however, I can access the webUI without any problem.
I get this when using both Firefox and Chrome.
It's just a minor issue, but I was curious as to why this happens…
Thanks again!
Thanks!
I changed the .json file
@Fredrik I've also installed pi-hole, seems to work (at least I get the webUI running)
Is there any reason why your json-file is built on a rather old version of pi-hole?
WebUI shows the following message…version 3.X is available…


thanks
Hello Roland,
The json-file does not contain the docker image.
It will download the latest docker image available.
Docker image is coming from this: https://hub.docker.com/r/diginc/pi-hole/
Tag: alpine / latest
As far as i know this is the most used docker source for pi-hole.
OK, the WebUi points to…for comparing the versions…there it says 3.0.1 is the lastest

I wondered the same thing as you, and when looking at the container's github, v2.13.2 is clearly specified.

It seems the upgrade to 3.0 is coming very soon, though:

The docker image was updated a while back so anyone who installs now get a 3.x version
I have been using pi-hole ever since I first installed it.
But mine still reads:

I have tried stopping / starting the rockon. Uninstalling, downloading the json file again, and then reinstalling, but end up with the same older version.
What do I do to update?
I haven't tried myself, but the container's documentation reads:
If you try to use pihole's built in updater it is not guaranteed to work; it almost assuredly won't work for alpine but debian may. The preferred 'docker way' to upgrade is:
Download the latest version of the image: docker pull diginc/pi-hole
Throw away your container: docker rm -f pihole
Warning When removing your pihole container you may be stuck without DNS until step 3 - docker pull before you docker rm -f to avoid DNS inturruption OR always have a fallback DNS server configured in DHCP to avoid this problem all together.
If you care about your data (logs/customizations), make sure you have it volume mapped or it will be deleted in this step
I would try stopping the rocking, then docker rm -f pihole after making sure you have a second DNS setup, before finally turning the rock-on back on. As far as I understand, it should pull the newer image then.
Again, I haven't tried it myself so I'm mostly supposing.
Hope it helps.