Hi guys,
I would like to install a GUI on my Rockstor media server.
I tried Gnome and KDE but I have the same issue with both.
I tried on a new installation on a VM … Same issue too :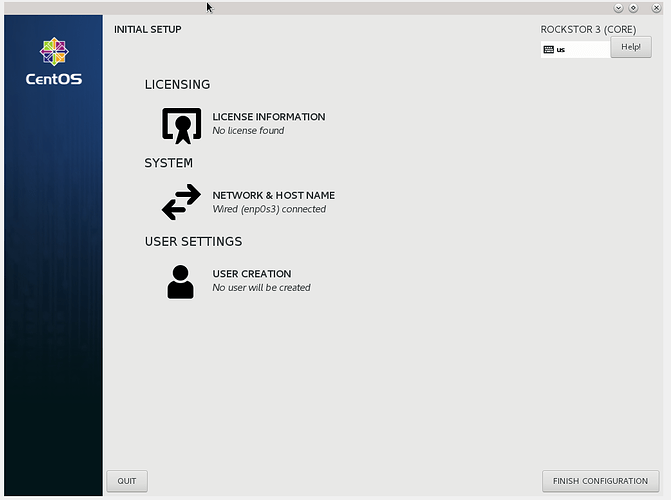 When I restarted the server I have had this screen with "No license found"
If I "Finish the configuration", the server restart and I have this screen again.
On my new installation on the VM, I success to have my account open on KDE but after restart … This screen appear.
Actually my server running on : "Rockstor version: 3.9.1-16"
And my VM on "3.9.1"
With my server I received an email :
reason: flash_optimize.py:122:update_sysctl:IOError: [Errno 2] No such file or directory: '/etc/sysctl.d/99-rockstor.conf'
cmdline: /usr/bin/python /opt/rockstor/bin/flash-optimize -x
executable: /opt/rockstor/bin/flash-optimize
package: rockstor-3.9.1-16
component: rockstor
pid: 3337
hostname: tzanahome
count: 13
abrt_version: 2.1.11
analyzer: Python
architecture: x86_64
duphash: bc5f9f89b33415b71efd3751452f8c736368071d
event_log:
kernel: 4.12.4-1.el7.elrepo.x86_64
last_occurrence: 1516666378
os_release: Rockstor release 3.8.16 (Core)
pkg_arch: x86_64
pkg_epoch: 0
pkg_fingerprint: 032B 764D 0879 5B09
pkg_name: rockstor
pkg_release: 16
pkg_vendor: RockStor, Inc.
pkg_version: 3.9.1
runlevel: unknown
time: Sun 21 Jan 2018 08:01:43 PM CET
type: Python
uid: 0
username: root
uuid: bc5f9f89b33415b71efd3751452f8c736368071d
I hope you have any idea about my issue because I need this GUI.
Or any alternative idea than Gnome and KDE maybe.
Thank you
Best regards