Hello community!!!
I am totally new on Rockstor and I am facing an issue while I am trying to install it.
Here is the machine where I am trying to install Rockstor:
MB: Gigabyte GA-G41M-Combo (rev. 2.0)
LAN: Onboard Atheros GbE LAN chip (10/100/1000 Mbit)
CPU: Intel(R) Core™2 Duo CPU E7400 @ 2.80GHz
RAM: 2GiB
Drives: 240GB SSD
I am installing Rockstor using Rockstor-Leap15.4-generic.x86_64-4.5.8-0.install.iso which I flashed onto a USB stick using BalenaEtcher. When installation completes, it says…
Rockstor is successfully installed.

web-ui is accessible with the following links:
hrrps://127.0.0.1
localhost login:
I log in using "root" and the password I set earlier, and it prompts me to do updates, etc.
I type myip as it asks me to do, and I get this…
localhost:~# myip
No DHCP-assigned IP address found.
Use 'nmtui' or 'nmcli' to set a static IP address.
localhost:~#
If I type nmtui there is nothing to edit.
If I type nmcli I see this…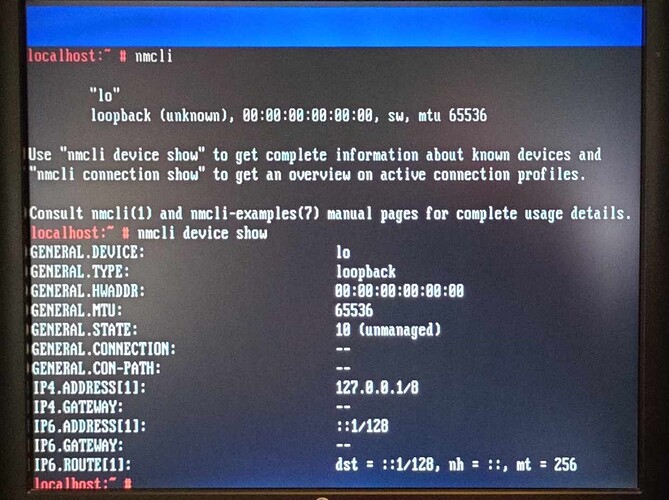 Any idea what I am doing wrong?
Am I using the wrong installation version?
Is it a driver issue?
My router has DHCP enabled!
I have also tried to install other similar NAS software and all went fine, with no issues on my LAN!
Thank you for your time!!!