After rebooting my machine, the pool has more disk than possible or available.
The Web-Ui shows the following: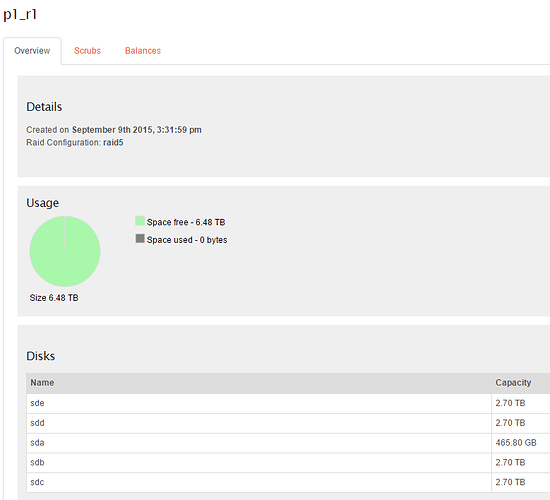 Also interesting is the sdf drive, which was attached as an USB drive and added to rockstor but never used und is at this right moment, disconnected, but still shows up.
The CLI tells the following:
btrfs fi show
Label: 'rockstor_rockstor' uuid: 4c4a3b31-41e1-49fe-bb75-5655973c6db5
Total devices 1 FS bytes used 2.80GiB
devid 1 size 103.43GiB used 71.02GiB path /dev/sde3
Label: 'p1_r1' uuid: f7ed3e88-c3fc-404a-bc58-e1c862bbb9ec
Total devices 4 FS bytes used 4.87TiB
devid 1 size 2.73TiB used 2.73TiB path /dev/sdd
devid 2 size 2.73TiB used 2.73TiB path /dev/sdc
devid 3 size 465.76GiB used 465.76GiB path /dev/sda
devid 4 size 2.73TiB used 1.01TiB path /dev/sdb
btrfs-progs v4.1.2
Could this have happend after the reboot because the disks were renamed ?
I have 4 slots which I connected one after the other, and after all of them I added the usb.
the USB is now disconnected and I did a reboot?
thanks