I have been experimenting with Rockstor, planning to use it as a primary NAS, sometime in the near future.
Right now I have it running on a slightly different machine than the one I'm planning for the build.
A AMD Phenom X4 940 in a Gigabyte GA-MA78GM, with 4Gb mem. This is a temporary setup, as this board has a defective sata slot, which makes it not boot when anything is connected to that. Otherwise its fully functional.
On this I have made a USB install, which seems to run reasonably well, allthough the ports are only USB2. Its not fast by any means, but is functional.
Hooked up I have three 500Gb discs, and one 200Gb disc, running Raid5. It all works, I can transfer files to and from the NAS, and speeds are good, much better than on my current NAS'es
Now comes some of my concerns.
I cant read SMART attributes for 3 out of the four discs. I get an error window like this: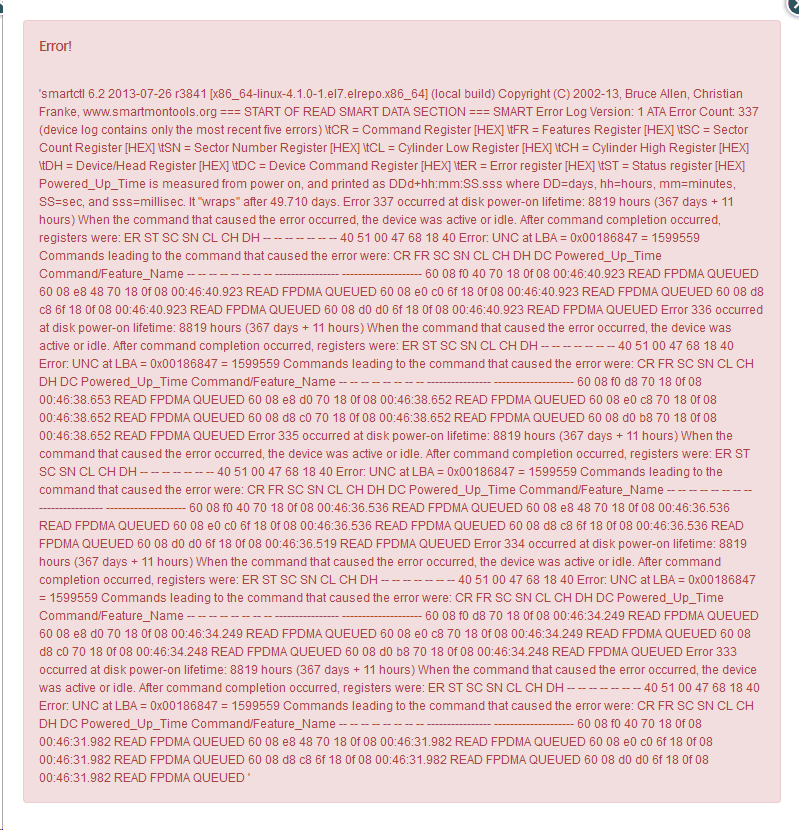 One of the drives show SMART values OK.
SMART works on all 4 discs when mounted in my main PC.
SMART readouts are IMHO vital for checking up if any discs are becoming bad, and them not working is not promising.
Another issue I'm seing is the dashboards not working. They work right after boot, then get slow to update, and in the end only the one showing memory status continues to update. This can not be normal behaviour?
Initially I only had the three 500Gb discs in the system. So I tried adding the 200Gb disc. I was expecting to have to add it to the pool, but RockStor had added it by itself, without me doing anything? This can not be wanted behaviour?
I recall having a pool on this drive with the same name as on the new pool, perhaps thats why it was added to the Raid5 array?
I didn't see any ill effects, but wondered what happened to the data on the pool on the disc. They seemed to have vanished. I did a balance and a scrub, and everything seems to work fine.
Well this became a long post, I hope you have some answers, especially regarding SMART not working.