Evening all, new to the rockstor community but come to this arena w/ deep storage background in ZFS and open storage systems. Tonight I was attempting to spin up a rockstor instance as I am evaluating a few new stg solutions such as ScaleIO/ESOS/Rockstor. Install went silky smooth but I was caught off guard by a vt-D LSI 2008 HBA NOT seeing any disks. Same config on a Illumos/ZoL/etc derivative is just fine and see's all disks attached w/ identical HW/VM config. I can see the mptsas module/drivers I believe and I see the HBA in lspci but no love in rockstor web interface/lsblk/fdisk -l.
HBA is in IT mode w/ v19 LSI firmware on it. (same FW I use on all my open-stg boxes)
If I attempt to rmmod mpt2sas and modprobe mpt2sas I get this gnarly looking error: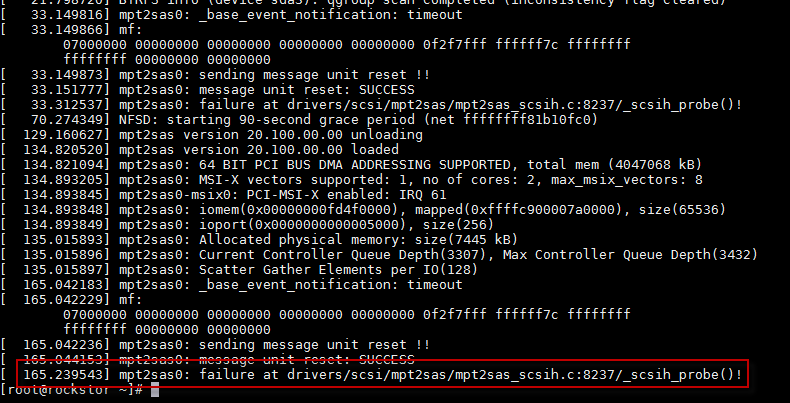 Any tips/tricks are greatly appreciated.
P.S. open-vm-tools IS installed.
UPDATE: I should confess that I added my vt-D HBA device post initial install, also did an immediate update from 3.8-7 to 3.8-8 which also did a kernel update…Gonna restart w/ vt-D passthru HBA attached from the get-go and NOT update just to sanity check things. Will report back shortly.