I just installed Rockstor 4.0.8 built on Leap 15.3 onto an HP DL380 G9 and paid up on a subscription. I have three volumes presented via the SmartArray controller - 146GB boot/system volume, a 50TB data volume on spinning disk, and a 3TB SSD volume. The big one is intended to be presented for bulk data, and the SSD would be a data store for virtualization hosts.
Rockstor apparently doesn't like the non-system volumes.
I've attached a screenshot, but it basically says the serial numbers are invalid and I can't really do anything with the disks. But I thought the OS was the one that generated those serial numbers when it first scans the bus.
I also get the following traceback when I attempt to view the disks by clicking the disk ID:
    Traceback (most recent call last):
  File "/opt/rockstor/src/rockstor/storageadmin/views/disk_smart.py", line 58, in _validate_disk
return Disk.objects.get(id=did)
  File "/opt/rockstor/eggs/Django-1.8.16-py2.7.egg/django/db/models/manager.py", line 127, in manager_method
return getattr(self.get_queryset(), name)(*args, **kwargs)
  File "/opt/rockstor/eggs/Django-1.8.16-py2.7.egg/django/db/models/query.py", line 334, in get
self.model._meta.object_name
DoesNotExist: Disk matching query does not exist.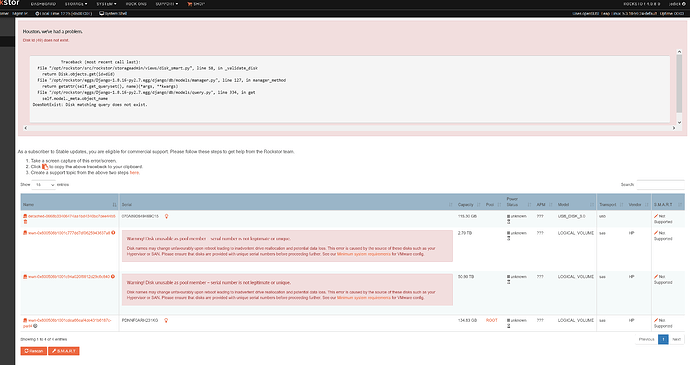 Any suggestions or assistance would be appreciated.