Hi.
I noticed that all of my recent scheduled snapshots have been failing. When looking through the logs, I noticed that all were erroring with "not a BTRFS subvolume."
I found that none of my shares are mounted under mnt2, as they had been previously. There shares were all created before installing rockstor. They are still visible under the pool name, such as: \mnt2\datadisk1\archives
But Rockstor used to mount them directly under mnt2, such as \mnt2\archives. When I look at those directories, though, they are all blank, indicating that the shares aren't mounted. Because of this, the snapshot command is not finding a subvolume at that path.
I can't imagine that I did something that would cause Rockstor to stop mounting shares. Anyone know what could cause this to happen, and more importantly, how to get them restored? I don't actually care about having them mounted this way, but I do need the snapshots to work.
Thanks.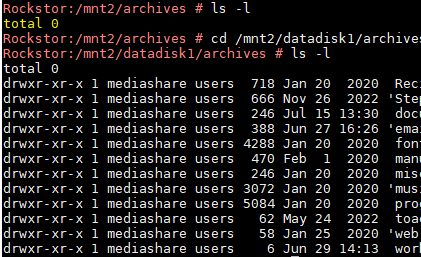 CommandException: Error running a command. cmd = /usr/sbin/btrfs subvolume snapshot -r /mnt2/archives /mnt2/datadisk1/.snapshots/archives/archives-daily_202307170100. rc = 1. stdout = ['']. stderr = ['ERROR: Not a Btrfs subvolume: Invalid argument', '']
[17/Jul/2023 01:00:02] ERROR [scripts.scheduled_tasks.snapshot:142] Failed to create snapshot at shares/20/snapshots/archives-daily_202307170100
[17/Jul/2023 01:00:02] ERROR [scripts.scheduled_tasks.snapshot:143] 500 Server Error: Internal Server Error for url: http://127.0.0.1:8000/api/shares/20/snapshots/archives-daily_202307170100