@Flox @upapi_rockstor @Bazza @Warbucks More info on this one:
I may have a reproducer / more info here using chrome version:
Chrome Version 74.0.3729.169 (Official Build) (64-bit)
With repeated:
"WebSocket connection to '' failed: WebSocket is closed before the connection is established." in Dev console.
Where as the same Rockstor install via:
Firefox 60.8.0esr (64-bit)
Works as intended. But I have seen some dashboard freezes but no Web-UI pauses or blank Web-UI top right.
Their is an intention to completely replace the way the dashboard works as it has tripped us up a few times in the past. But for this we need to move to Python 3 and Django 3: both non trivial tasks. All doable in time though.
Can folks having issues with 3.9.2-49 showing a mostly blank top right Web-UI and a bunch of empty dashboard widgets:
Chrome: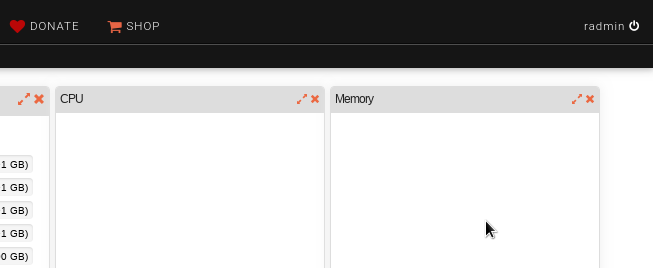 and some really annoying 10-30 second pauses upon visiting any page !!!
Please report your findings using Firefox.
Firefox: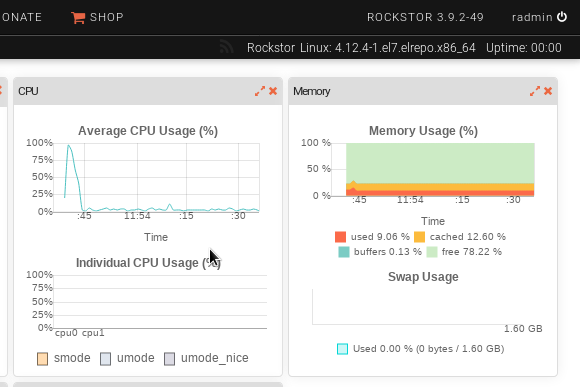 If you find, having visited the Web-UI with Chrome, that the CPU load in Rockstor is consistently high their after (data-collector spinning away to itself), I have seen this once so far, then a reboot or possibly a rockstor.service stop start, as in my previous post, should calm things down again.
@Flox I'm also seeing this Chrome incompatibility on our pre-release testing channel openSUSE rpms so fairly generic problem.