First of all, Thanks for this awesome product. After researching, researching and researching I finally gave Rockstor a try (coming from OpenMediaVault 2) After trying FreeNAS, OMV3, unRAID, and so many other.
My hardware set up is simple and trying to keep the power consumption at minimum as I plan to keep this server running from 8am till 11pm.
Lenovo M73e (I have the older gen which doesnt have USB3 Connection) - http://www3.lenovo.com/au/en/desktops-and-all-in-ones/mini-computers/10AY1/p/11TC1TMM73010AY
8GB RAM
2TB 2.5" External USB (plan to add 4TB 2.5" External USB)
Intel Processor i3
Getting it up and running with lots of Rock-Ons (docker application), so far I have been very impressed with the performance.
It is now serving
*Media via Plex (Movies and TVShows)
*Ebooks server via Ubooquity (Lazylibrarian searches and send download to SABnzbd and dump the completed files to Ubooquity for consumption)
*Couchpotato, Sonarr, NZBHydra and Jackett (automating all the searching, downloading and processing the media from the web)
*Muximux as the one stop portal for all these apps
Planning to add Pi-Hole, Personal Image Gallery (maybe Piwigo or MediaGoblin), PyLoad.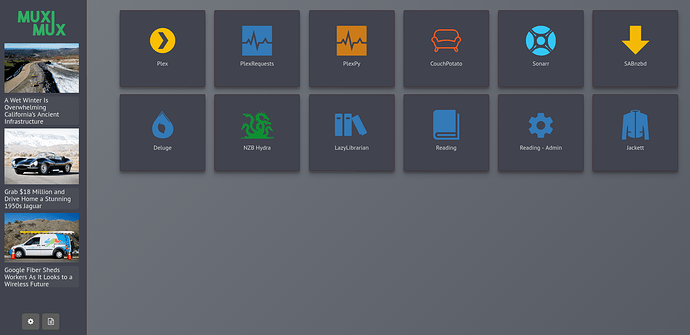 I wish to see in the near future that Rockstor has capability to run VM. But for now, I think I am quite happy with my setup!
Thanks to all the devs for helping me out this past few days/weeks