Hi guys!
Today i faced a new problem after swaping 4x3TB to 4x6TB Raid5. The Raid size is as expected ~16.5TB. But the poolsize is still 7.5TB which is a quota thing i guess.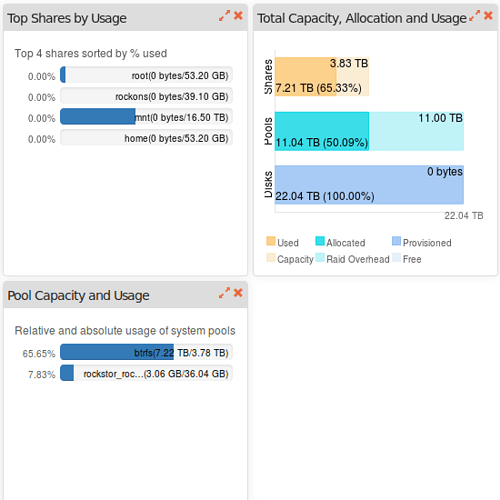 So i tried to "rezise" the pool but there is no GUI option to do so. But there should be a way to change the quota on each pool from the GUI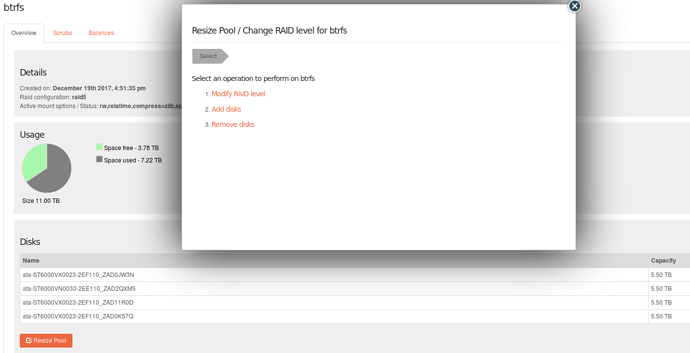 [root@nas ~]# btrfs qgroup show /mnt2/mnt/
qgroupid rfer excl
---
0/5 16.00KiB 16.00KiB
0/260 7.21TiB 7.21TiB
2015/1 0.00B 0.00B
2015/2 0.00B 0.00B
[root@nas ~]#
Never messed with quota on btrfs up to now since its almost considered broken by the kernel devs and bugs only get fixed slowly. but now seems to be the time start learning the concept btrfs uses here.
Is this a missing feature or a bug?
Sash
p.s. mnt is a samba share on the Raid5 pool called btrfs. while the poolsize of "btrfs" gets displayed with ~11TB (which is wrong), the share /mnt2/mnt shows ~16.5TB (which is correct).