Brief description of the problem
Hello,
I want to Import my Raid1 Pool after I click at "Are you sure you want to automatically import pools, shares and snapshots that may be on the disk ?" at one Disk. I get the follwoing Error Message.
Houston, we've had a problem.
Failed to import any pool on this device(4). Error: 'unicode' object has no attribute 'name'
Detailed step by step instructions to reproduce the problem
I had to reinstall Rockstor. After it, I tried to import my Pools. The Single Pools run without a problem. At the Raid1 Pool, I got this Error. What can I do to import my Raid1 Pool?
Web-UI screenshot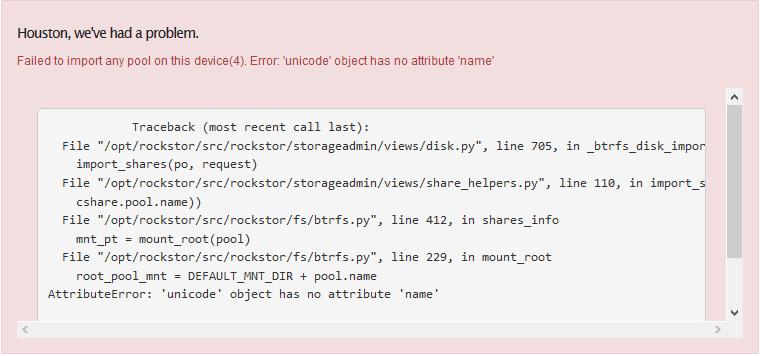 Error Traceback provided on the Web-UI
        Traceback (most recent call last):

File "/opt/rockstor/src/rockstor/storageadmin/views/disk.py", line 705, in _btrfs_disk_import
import_shares(po, request)
File "/opt/rockstor/src/rockstor/storageadmin/views/share_helpers.py", line 110, in import_shares
cshare.pool.name))
File "/opt/rockstor/src/rockstor/fs/btrfs.py", line 412, in shares_info
mnt_pt = mount_root(pool)
File "/opt/rockstor/src/rockstor/fs/btrfs.py", line 229, in mount_root
root_pool_mnt = DEFAULT_MNT_DIR + pool.name
AttributeError: 'unicode' object has no attribute 'name'