[Please complete the below template with details of the problem reported on your Web-UI. Be as detailed as possible. Community members, including developers, shall try and help. Thanks for your time in reporting this issue! We recommend purchasing commercial support for expedited support directly from the developers.]
Brief description of the problem
Help!!!
All shares and data of my RAID 5/6 pool are lost.
Detailed step by step instructions to reproduce the problem
Yesterday I did not get access to the shares.
In the web UI, all the shares had disappeared.
After a reinstall the pool could not be activated.
See error message below.
Web-UI screenshot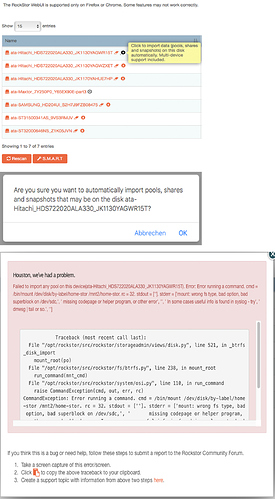 Error Traceback provided on the Web-UI
Houston, we've had a problem.
Failed to import any pool on this device(ata-Hitachi_HDS722020ALA330_JK1130YAGWR15T). Error: Error running a command. cmd = /bin/mount /dev/disk/by-label/home-stor /mnt2/home-stor. rc = 32. stdout = ['']. stderr = ['mount: wrong fs type, bad option, bad superblock on /dev/sdc,', ' missing codepage or helper program, or other error', '', ' In some cases useful info is found in syslog - try', ' dmesg | tail or so.', '']
        Traceback (most recent call last):

File "/opt/rockstor/src/rockstor/storageadmin/views/disk.py", line 521, in _btrfs_disk_import
mount_root(po)
File "/opt/rockstor/src/rockstor/fs/btrfs.py", line 238, in mount_root
run_command(mnt_cmd)
File "/opt/rockstor/src/rockstor/system/osi.py", line 110, in run_command
raise CommandException(cmd, out, err, rc)
CommandException: Error running a command. cmd = /bin/mount /dev/disk/by-label/home-stor /mnt2/home-stor. rc = 32. stdout = ['']. stderr = ['mount: wrong fs type, bad option, bad superblock on /dev/sdc,', ' missing codepage or helper program, or other error', '', ' In some cases useful info is found in syslog - try', ' dmesg | tail or so.', '']