[Please complete the below template with details of the problem reported on your Web-UI. Be as detailed as possible. Community members, including developers, shall try and help. Thanks for your time in reporting this issue! We recommend purchasing commercial support for expedited support directly from the developers.]
Brief description of the problem
I can't wipe disks.
Detailed step by step instructions to reproduce the problem
I initially used RAID 5 despite the warning but after some experimentation and more reading I've now decided to go with RAID10.
I removed the installled Rock-On, deleted all the SFTP and Samba shares I had created, deleted the Shares and the Pool.
When I tried to create a new pool there were no disks available so I selected a disk and chose to wipe it (tick box).
Web-UI screenshot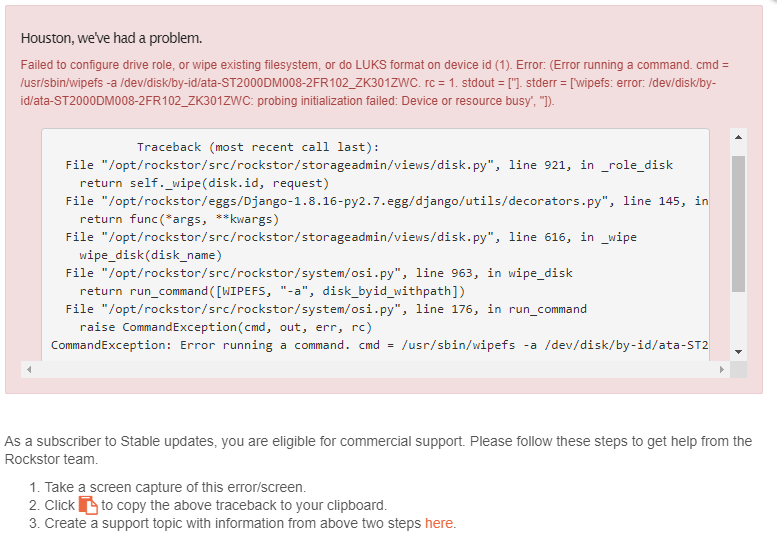 Error Traceback provided on the Web-UI
Traceback (most recent call last): File "/opt/rockstor/src/rockstor/storageadmin/views/disk.py", line 921, in _role_disk return self._wipe(disk.id, request) File "/opt/rockstor/eggs/Django-1.8.16-py2.7.egg/django/utils/decorators.py", line 145, in inner return func(*args, **kwargs) File "/opt/rockstor/src/rockstor/storageadmin/views/disk.py", line 616, in _wipe wipe_disk(disk_name) File "/opt/rockstor/src/rockstor/system/osi.py", line 963, in wipe_disk return run_command([WIPEFS, "-a", disk_byid_withpath]) File "/opt/rockstor/src/rockstor/system/osi.py", line 176, in run_command raise CommandException(cmd, out, err, rc) CommandException: Error running a command. cmd = /usr/sbin/wipefs -a /dev/disk/by-id/ata-ST2000DM008-2FR102_ZK301ZWC. rc = 1. stdout = ['']. stderr = ['wipefs: error: /dev/disk/by-id/ata-ST2000DM008-2FR102_ZK301ZWC: probing initialization failed: Device or resource busy', '']