Is there an issue with rockon update failing?
I just did:
a fresh install of 3.9.1
Updated
Rebooted
setup and enabled rockon
went to the rockon page, then 'all', then clicked update.
result: took ages and then popped up the empty message below
Then tried the same again (full reinstall, but i activated my rockstor with a key and enabled stable), same result.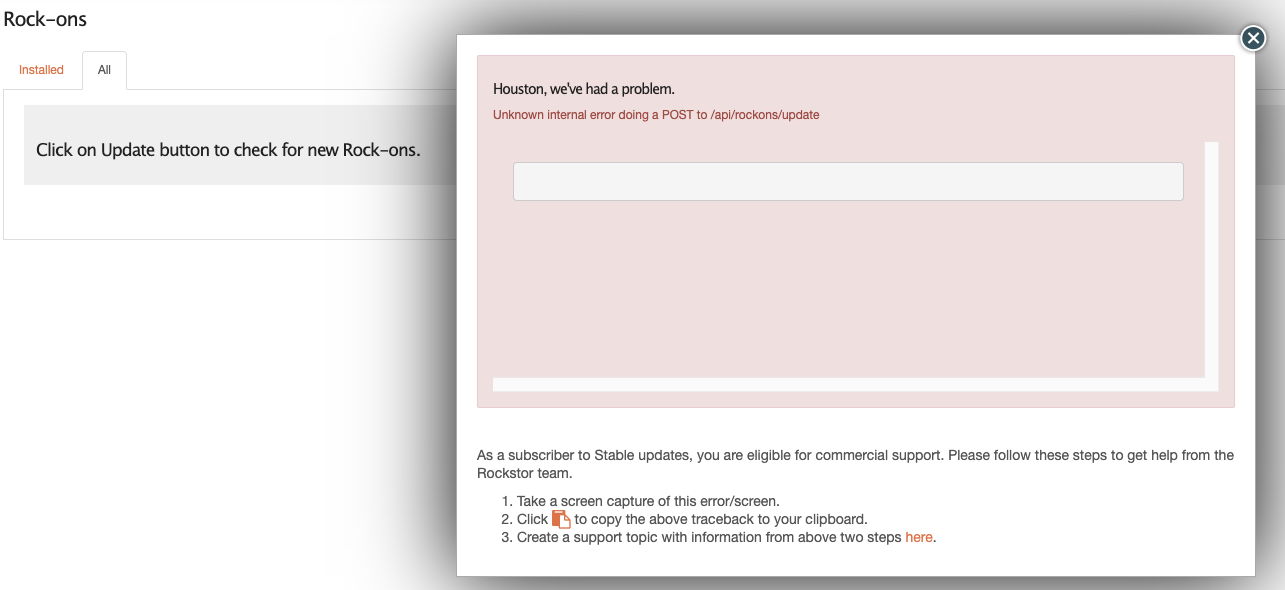 In the logs I see:
 ==> /opt/rockstor/var/log/gunicorn.log <==
[2021-07-16 21:10:20 +0000] [2881] [CRITICAL] WORKER TIMEOUT (pid:4552)
[2021-07-16 21:10:20 +0000] [4552] [INFO] Worker exiting (pid: 4552)
[2021-07-16 21:10:20 +0000] [7117] [INFO] Booting worker with pid: 7117

==> /opt/rockstor/var/log/rockstor.log <==
[16/Jul/2021 21:10:21] ERROR [system.osi:174] non-zero code(1) returned by command: ['/usr/sbin/btrfs', 'qgroup', 'show', '/mnt2/rockstor_rockstor/home']. output: [''] error: ["ERROR: can't list qgroups: quotas not enabled", '']

==> /opt/rockstor/var/log/gunicorn.log <==
[2021-07-16 21:10:27 +0000] [2881] [CRITICAL] WORKER TIMEOUT (pid:5552)
[2021-07-16 21:10:27 +0000] [5552] [INFO] Worker exiting (pid: 5552)
[2021-07-16 21:10:27 +0000] [7225] [INFO] Booting worker with pid: 7225