Hello,
Just installed the latest rockstor on my home server using bare metal. The install went smooth, but somehow I added ALL my storage to the rockstor_rockstor pool.
Brief description of the problem
Cannot remove disks from the rockstor_rockstor pool. When I try to run the resize tool to remove a disk, it crashes out with s script error. Is there a way to remove the 2 1tb disks from the pool, or should I use the setup again?
Detailed step by step instructions to reproduce the problem
Web-UI screenshot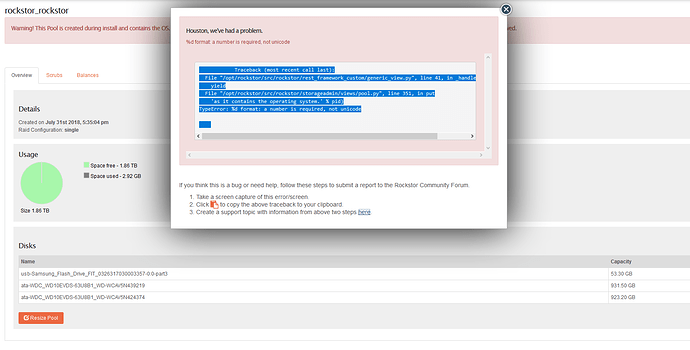 Error Traceback provided on the Web-UI
        Traceback (most recent call last):

File "/opt/rockstor/src/rockstor/rest_framework_custom/generic_view.py", line 41, in _handle_exception
yield
File "/opt/rockstor/src/rockstor/storageadmin/views/pool.py", line 351, in put
'as it contains the operating system.' % pid)
TypeError: %d format: a number is required, not unicode