Hello Rockstor developers and community,
I've been using Rockstor for over a year and it's been mostly stable and useful

. First, I'm seeing the message when loading pages, such as the dashboard:
Unknown internal error doing a GET to /api/update-subscriptions?page=1&format=json&page_size=9000&count=
RocksStor UI pages are taking several minutes to load. When I usually noticed them taking 10 - 15 seconds at most.
I noticed that the message doesn't show on the Rockon Web UI page. Although, the page still loads incredibly slow.
This is operating on a Supermicro X7DCL and two Intel(R) Xeon(R) CPU E5450 @ 3.00GHz
 total            used            free              shared     buff/cache   available
   Mem:       24687708     1733708    16291932       67740     6662068    22356856
   Swap:      12387324           0    12387324

System Volume is one drive:
Model Number: WDC WD1500AHFD-00RAR5
All other storage on a RAID-1 with drives:
Model Number: TOSHIBA MD04ACA500
Model Number: HGST HUS726060ALA640
procs -----------memory---------- ---swap-- -----io---- -system-- ------cpu-----
 r  b   swpd   free   buff  cache   si   so    bi    bo   in   cs us sy id wa st
 2  0      0 16264456   6360 6676484    0    0   101    90  202  296  1  3 95  1  0

The rockstor.log seem to just be filled errors about quota. Is this where the UI logs or is it another log? I'd be glad to send a more detailed report to support. But as a side note, the link in the message takes me to the page https://support.rockstor.com/open.php, which doesn't open - error: Unable to connect.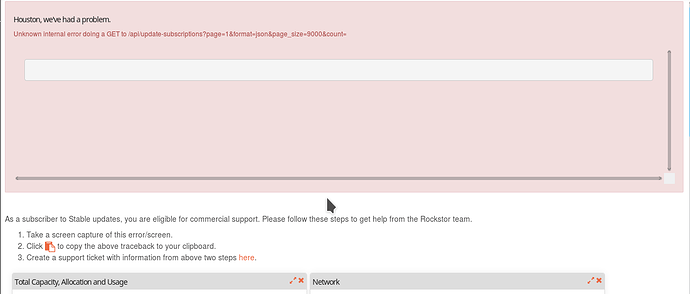 Thank you in advance for advice.
[edit]
I tried installing a Rockon and tried installing it again, as steps to upgrade the image. The Rockon page is not loading after an update and giving the message:
Unknown internal error doing a GET to /api/pools?page=1&format=json&page_size=9000&count=