[Please complete the below template with details of the problem reported on your Web-UI. Be as detailed as possible. Community members, including developers, shall try and help. Thanks for your time in reporting this issue! We recommend purchasing commercial support for expedited support directly from the developers.]
Brief description of the problem
Samba isn't started at Power On, After a realy few second I click on /System/Services and switch Samba from OFF to ON.
Then I got an error windows :
Detailed step by step instructions to reproduce the problem
As I wrote on top!
Web-UI screenshot
[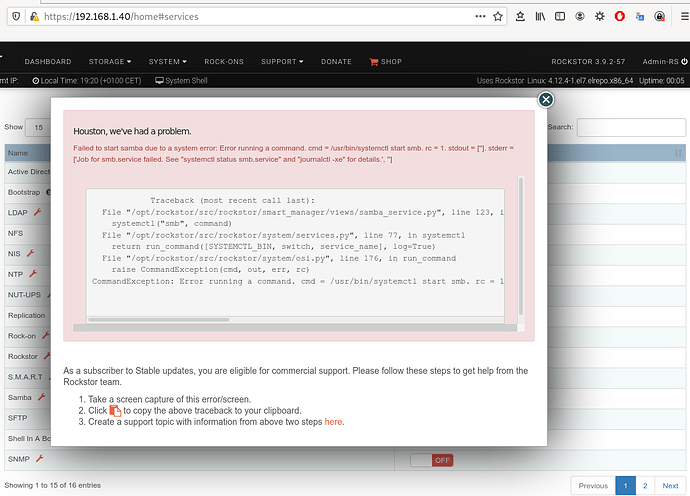 ]
Error Traceback provided on the Web-UI
Oups, this message in clipboard was overwrite by the copy/paste of the image itself ? Or my error .
Result from command journalctl -xn
My system in French …Sure you read french with or without Google translation
-- Logs begin at dim. 2020-11-08 19:14:08 CET, end at dim. 2020-11-08 19:33:07 CET. -- nov. 08 19:20:02 hpg10 nmbd[2590]: Samba name server HPG10 is now a local master browser for workgroup WORKGROUP on subnet 172.17.0.1 nov. 08 19:20:02 hpg10 nmbd[2590]: nov. 08 19:20:02 hpg10 nmbd[2590]: ***** nov. 08 19:29:07 hpg10 systemd[1]: Starting Cleanup of Temporary Directories... -- Subject: L'unité (unit) systemd-tmpfiles-clean.service a commencé à démarrer -- Defined-By: systemd -- Support: http://lists.freedesktop.org/mailman/listinfo/systemd-devel -- -- L'unité (unit) systemd-tmpfiles-clean.service a commencé à démarrer. nov. 08 19:29:07 hpg10 systemd[1]: Started Cleanup of Temporary Directories. -- Subject: L'unité (unit) systemd-tmpfiles-clean.service a terminé son démarrage -- Defined-By: systemd -- Support: http://lists.freedesktop.org/mailman/listinfo/systemd-devel -- -- L'unité (unit) systemd-tmpfiles-clean.service a terminé son démarrage, avec le résultat done. nov. 08 19:33:07 hpg10 sshd[5968]: Accepted password for root from 192.168.1.20 port 40241 ssh2 nov. 08 19:33:07 hpg10 systemd[1]: Created slice User Slice of root. -- Subject: L'unité (unit) user-0.slice a terminé son démarrage -- Defined-By: systemd -- Support: http://lists.freedesktop.org/mailman/listinfo/systemd-devel -- -- L'unité (unit) user-0.slice a terminé son démarrage, avec le résultat done. nov. 08 19:33:07 hpg10 systemd[1]: Started Session 1 of user root. -- Subject: L'unité (unit) session-1.scope a terminé son démarrage -- Defined-By: systemd -- Support: http://lists.freedesktop.org/mailman/listinfo/systemd-devel -- -- L'unité (unit) session-1.scope a terminé son démarrage, avec le résultat done. nov. 08 19:33:07 hpg10 systemd-logind[2034]: New session 1 of user root. -- Subject: Une nouvelle session 1 a été créée pour l'utilisateur root -- Defined-By: systemd -- Support: http://lists.freedesktop.org/mailman/listinfo/systemd-devel -- Documentation: http://www.freedesktop.org/wiki/Software/systemd/multiseat -- -- Une nouvelle session a été créée pour l'utilisateur root avec -- l'identifiant (ID) 1. -- -- Le processus maître de la session est 5968. nov. 08 19:33:07 hpg10 sshd[5968]: pam_unix(sshd:session): session opened for user root by (uid=0)