Just a query based on my recent observation really. Any idea how accurate the Network Widget is on the Dashboard? Since rebuilding my sadly defunct elderly AMD64 box with a relatively inexpensive mini ITX board based on the Celery J3455 I'm getting far superior data rates than ever before (Realtek onboard NIC). Here's a screengrab of the network widget from earlier today when restoring a lot of videos back to my Rockstor from a humble WD Mycloud using rsync directly between the two devices: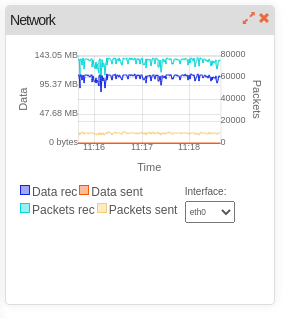 Now, the X axis time clicks are (I assume) every second, so that's giving me quite a good data rate. Yes? No? Smaller files give lower rates of course, but still rarely below about 50MB/s.
I'm not reading the widget graph incorrectly, am I?
Cheers
Geoff