Brief description of the problem
I have not been backing up regularly lately, and over the last couple of weeks my Rockstor appliance updated (I am on Stable updates) to 3.9.2-30. I can no longer connect to my backup shares, and am getting errors in the Web UI while navigating.
Detailed step by step instructions to reproduce the problem
Tried to use time machine to backup my MBP, and got an error saying the disk was unavailable. When navigating the Web UI to investigate, I am getting the errors below.
Web-UI screenshot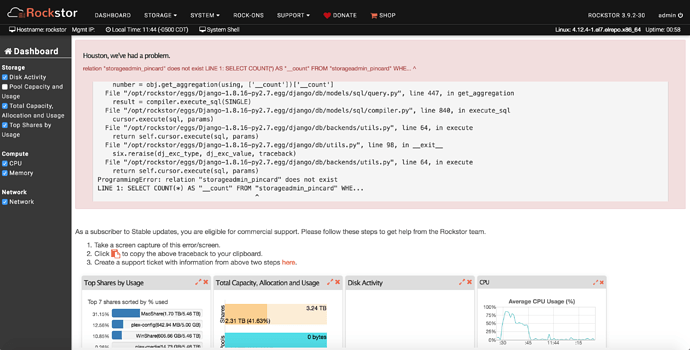 Error Traceback provided on the Web-UI
Traceback (most recent call last): File "/opt/rockstor/src/rockstor/rest_framework_custom/generic_view.py", line 41, in _handle_exception yield File "/opt/rockstor/src/rockstor/storageadmin/views/user.py", line 113, in get_queryset return combined_users() File "/opt/rockstor/src/rockstor/storageadmin/views/ug_helpers.py", line 69, in combined_users temp_uo.pincard_allowed, temp_uo.has_pincard = pincard_states(temp_uo) # noqa E501 File "/opt/rockstor/src/rockstor/system/pinmanager.py", line 147, in pincard_states pincard_present = has_pincard(user) File "/opt/rockstor/src/rockstor/system/pinmanager.py", line 130, in has_pincard pins = Pincard.objects.filter(user=int(uid_field)).count() File "/opt/rockstor/eggs/Django-1.8.16-py2.7.egg/django/db/models/query.py", line 318, in count return self.query.get_count(using=self.db) File "/opt/rockstor/eggs/Django-1.8.16-py2.7.egg/django/db/models/sql/query.py", line 466, in get_count number = obj.get_aggregation(using, ['__count'])['__count'] File "/opt/rockstor/eggs/Django-1.8.16-py2.7.egg/django/db/models/sql/query.py", line 447, in get_aggregation result = compiler.execute_sql(SINGLE) File "/opt/rockstor/eggs/Django-1.8.16-py2.7.egg/django/db/models/sql/compiler.py", line 840, in execute_sql cursor.execute(sql, params) File "/opt/rockstor/eggs/Django-1.8.16-py2.7.egg/django/db/backends/utils.py", line 64, in execute return self.cursor.execute(sql, params) File "/opt/rockstor/eggs/Django-1.8.16-py2.7.egg/django/db/utils.py", line 98, in __exit__ six.reraise(dj_exc_type, dj_exc_value, traceback) File "/opt/rockstor/eggs/Django-1.8.16-py2.7.egg/django/db/backends/utils.py", line 64, in execute return self.cursor.execute(sql, params) ProgrammingError: relation "storageadmin_pincard" does not exist LINE 1: SELECT COUNT(*) AS "__count" FROM "storageadmin_pincard" WHE... ^