[Please complete the below template with details of the problem reported on your Web-UI. Be as detailed as possible. Community members, including developers, shall try and help. Thanks for your time in reporting this issue! We recommend purchasing commercial support for expedited support directly from the developers.]
Brief description of the problem
Unable to execute update for rock-ons so the list won't populate.
Detailed step by step instructions to reproduce the problem
Fresh installation, tried the command via webUI and the pop up appears after 3 minutes.
Tried to yum update and the issue remains. I don't receive any errors during update.
Server is a HP N36L with 4Gb RAM running on a 250Gb 2.5" HDD.
I have an another one, identical, that does not have such problem. I've tried reinstalling over other HDD, but the issue remains.
I even tried on a completely different machine, HP ML110 G5, same result.
I tried to upload the configuration file from the working one but it does not work
Web-UI screenshot
(upload://mAYO3WsKPTZHKdTovvjbUJFME0g.png)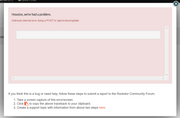 Error Traceback provided on the Web-UI
there is NO code on the webUI error popup.