Hello all.
When I started, I had setup Rockstor on a USB drive. It worked great, but I decided recently to move over to an SSD for the OS.
I probably did this wrong, but what I did was do a DD of the USB drive to the SSD. Then I booted up with the SSD. Rockstor booted up fine, and everything is great. Except, the old USB drive shows as detached, and I can't seem to get rid of it from the interface.
Here is the old USB detached disk on the Disk pane:


The info icon tells me to do pool resize to remove it:


When I go to the Pool page, I see "both" disks:


But when I try and remove it, I get an error/warning: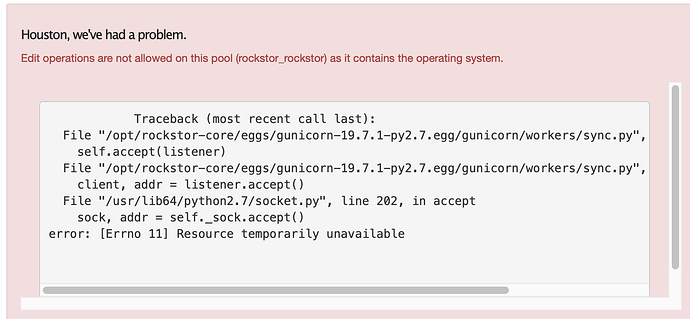 I get that modifications to the OS disk are not a good idea, and this is a good way to protect the user. However, in my circumstance, I'm not sure how to "fix" things. In the end, it is really just an annoyance, everything works just fine. I just was trying to clean up things after switching drives.
Doing a 'btrfs fi show /' I only see the one drive:
[root@rocknas ~]# btrfs fi show /
Label: 'rockstor_rockstor' uuid: 9041aeee-40ef-4c54-a53c-c71f3c0e492f
Total devices 1 FS bytes used 6.71GiB
devid 1 size 25.29GiB used 19.06GiB path /dev/sds3
So my guess is that this is just something in the database that could be cleaned up? But before I started poking around, I wanted to see if I was going about this the wrong way, or if there was even a recommended way to transition the OS across disks.